Belvedere Palace in Vienna
The Belvedere was built as a summer residence for Prince Eugene of Savoy and the stunning Baroque palace complex is now home to an art museum as well as beautiful gardens.
The Schloss Belvedere complex is formed of two Baroque palaces - Upper and Lower Belvedere - joined by a large and beautifully designed garden.
Upper Belvedere
The Upper Belvedere is located on the highest part of the gently sloping garden. The main building of the architectural complex, its stunningly elaborate façade is reflected in the mirror pool in front of it.
Redesigned in 2018, the inside of the palace is home to one of Austria's most valuable art collections. The permanent exhibition showcases works from the Middle Ages to the present day across seven different themed rooms, including the magnificent two-storey Marble Hall and the octagonal Palace Chapel.
A highlight of the Upper Belvedere is undoubtedly the first floor exhibition dedicated to Gustav Klimt, an unmissable visit for Art Nouveau fans, or anyone wanting to see the artist's world-famous painting of The Kiss.
Lower Belvedere and Orangery
The little brother of the Upper palace, the Lower Belvedere has a more subtle façade, and houses the museum's temporary exhibitions. Inside, visitors can still marvel at the lavish tastes of Prince Eugene, who used this palace as his residence, particularly in the Groteskensaal (Hall of the Grotesque), the Marble Gallery and the Golden Room.
Next to the Lower Belvedere, the Orangery is an elegant building that was originally used as a greenhouse. A feat of architectural engineering in its time, it was a heated winter garden with a removable roof. Today, the original sliding roof has been replaced with a permanent one, and the orange trees swapped for special temporary art exhibitions.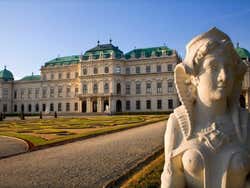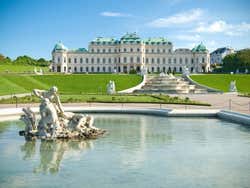 Schedule
Upper Belvedere: daily 9 am to 6 pm (Fridays until 9 pm).
Lower Belvedere, Orangery and Palace Stables: daily 10 am to 6 pm (Fridays until 9 pm).
Belvedere 21: Wednesday to Sunday 11 am to 6 pm (Wednesdays and Fridays until 9 pm).
Price
Adults: € 24.90 (US$ 26.70) (Upper and Lower Belvedere and Orangerie)
Students and over 65s: € 21.90 (US$ 23.50)
Children up to and including 18 years old: free entry.
Vienna Pass holders: free entry.
Transport
Tram: Schloss Belvedere, line D; Unteres Belvedere, line 71.