Founded in 1572 and therefore the oldest of its kind in the world, the Spanish Riding School has been located in the Hofburg since the 1730s. Its Lipizzaner horses are famous around the world.
Vienna's Spanish Riding School, the Spanische Hofreitschule, has been dedicated to practising classical dressage for over 400 years.
The school was founded in 1572 during the Habsburg monarchy, and is housed within the Hofburg. It is the oldest institution of its kind in the world and one of the highlights of any visit to Vienna.
In 1735, the Winter Riding School was opened with the intention of offering horse riding classes to young aristocrats. The stunning Baroque arena is the current location of the world-famous Lipizzaner horses' practice sessions and performances.
The Lipizzaner horses
The Imperial Austrian Court enjoyed raising and breeding horses, to the extent that, at the end of the 16th century, Charles II Archduke of Austria founded the Lipizza stud. The stud is located in what is now modern-day Slovenia, and still to this day continues the tradition of horse-breeding.
The first Lipizzaner horses were brought over from Spain. Fascinatingly, the horses' coats are black in colour until they are eight years old, when most of them develop the grey-white colour associated with their breed.
The riders go through more than ten years of training with their Lipizzaner horses to be able to achieve the complex dressage movements in time with the music.
How to see the school
There are two options for those wanting to discover more of the iconic Spanish Riding School in Vienna. You can buy tickets for one the spectacular performances, allowing you to watch the incredibly specialised classical talents of both the horses and the riders within the magnificent Winter Riding School.
Alternatively, you can choose to go on a guided tour of the school, on which you'll learn all about the horses and the history of the institution, and even get to see the horses in their stables, as well as admiring the beautiful architecture of the building.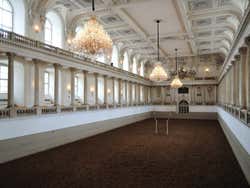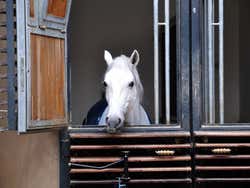 Schedule
Guided tour: 2 pm, 3 pm and 4 pm (almost every day)
Price
Guided tours:
Adults € 18 (US$ 19.60).
Seniors over 65 years old and students: € 14 (US$ 15.20)
Children between 6 and 18 years old: € 9 (US$ 9.80)
Vienna Pass holders: free entry.