Vienna Natural History Museum
Located in Museumsquartier, Vienna's Natural History Museum is home to wide range of exhibtions that allow visitors to experience the incredible diversity of nature and to travel back in time through the history of our planet.
The museum building itself, which opened in 1889, is the identical twin of the Art History Museum which faces it across Maria Theresia Platz.
Discover the museum
The Natural History Museum's exhibitions are divided between two floors: the lower floor is dedicated to Europe's most extensive collection of precious stones, minerals, and even meteorites, as well as a number of displays surrounding prehistoric culture, the evolution of humankind, and paleontological discoveries. The famous Venus of Willendorf, a figurine estimated to be 30,000 years old, is on display here.
On the upper floor, visitors can explore a huge collection of different animal species, including insects, birds, and mammals. Not only do these exhibitions provide a fascinating insight into the history of taxidermy over the centuries, but they also give us the opportunity to see now-extinct creatures such as Steller's sea cow.
To celebrate the museum's 125th anniversary, a new Digital Planetarium was opened. Its projection technology gives visitors the chance to take awe-inspiring virtual journeys across the Milky Way galaxy in incredible scientific detail.
One of the best
Like all of Vienna's museums, the Natural History Museum is a popular destination for both tourists and locals alike.
What's more, it's also home to over 60 full-time scientists who carry out research into a wide range of topics related to human, earth, and life sciences, and it's therefore considered one of the most important natural museums in the world.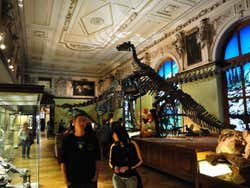 Schedule
Thursday to Monday: from 9 am until 6:30 pm.
Wednesdays: from 9 am until 9 pm.
Closed: Mondays, 1st January and 25th December.
Price
Adults: € 16 (US$ 17.20)
Senior citizens: € 12 (US$ 12.90)
Students under 27 years old: € 12 (US$ 12.90)
Children under 19 years old: free entry
Vienna Pass holders: free entry
Transport
Metro: Volkstheater, lines U2 and U3.
Tram: Schmerlingplatz, line 46; Dr.Karl Renner Ring, lines 1, 2, 46, 49 and D.
Bus: Heldenplatz, line 2A; Burgring, line 57A; Dr.Karl Renner Ring, line 48A.