Flowers, fruit, bread and food stalls serving delicacies from all over the world are found at Naschmarkt, Vienna's most famous market, which has been regularly held since the 16th century.
Naschmarkt is one of Vienna's most famous markets and the oldest too, having been held since the 16th century. It's still the place to go in the city for colourful bunches of flowers, delicious bread, fresh fruit and vegetables, or even just a warming cup of coffee.
Past and present
Having started as a market selling milk bottles, from 1793 onwards all fruit and vegetables brought into the Austrian capital by cart had to be sold here, while goods brought by boat via the Danube were sold elsewhere.
Over the course of its 500 years of history, the Naschmarkt has kept selling fruit and vegetables, and has also branched out to many other different food stalls. Visit the bakeries for fresh bread, indulge in one of the many sweet, chocolate and dessert stalls, or maybe treat yourself to some Austrian wine or honey form the local vendors.
There are also many restaurants and cafes dotted throughout the ancient market, where you can sample not only Viennese delicacies but food from all over the world.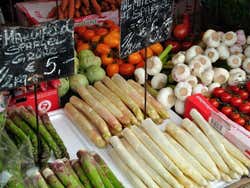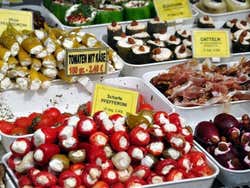 Schedule
Monday to Saturday: between 9 am and 6:30 pm (Saturday until around 5 pm).
Restaurants and cafes are open later, some until almost midnight.
Most stalls are closed on Sundays.