The Imperial Carriage Museum in Vienna contains one of the best collections of historic vehicles in the world. Discover the fascinating history of Austrian nobility through their vehicles.
Vienna's Imperial Carriage Museum contains one of the world's greatest collections of historic vehicles.
Located in the beautiful grounds of the Schonbrunn Palace, the Wagenburg museum houses more than 170 different vehicles, amongst which there are carriages, sedans, sleighs and even a car that have belonged to different historic figures over the years.
Through these carriages, the music tells the story of Austria's fascinating past, allowing you to learn all about the lives of the people whose travelled in these vehicles, including Maria Theresia, Franz Joseph I and Empress Sisi.
The museum's permanent exhibitions also include one dedicated to the 'Queens of Hearts' of the 20th Century, which draws parallels between the beloved Empress Sisi and Princess Diana.
The most important carriages
Amongst the Imperial Carriage Museum's most important pieces on display are the Viennese court's funeral carriage, as used by Empress Sisi, the tiny children's car used by Napoleon's son, and the only surviving court automobile from 1914.
Unmissable
As well as its lavish vehicle collection, the Imperial Carriage Museum highlights the truly indulgent lifestyles of the Austrian nobility displaying other pieces such as luxurious clothing items and accessories. A truly interesting insight into the history of the country!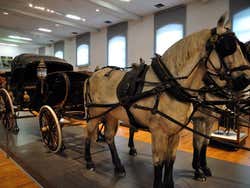 Schedule
From the 15th of March to 29th November: 9 am to 5 pm
30th November to 31st December: 10 am to 4 pm
Price
Adults: € 12 (US$ 13.10)
Students with valid ID, seniors over 65 years old and other concessions: € 9 (US$ 9.80)
Children under 19 years old: free entry.
Visitors with Vienna Pass: free entry.
Imperial Carriage Museum Ticket € 12 (US$ 13.10)
Transport
Metro: Schonbrunn, line U4 (green line).
Tram: Schloss Schonbrunn, lines 10 and 58.
Bus: Schloss Schonbrunn, lines 10A and 63A.