Hundertwasserhaus is a residential block in Vienna built by Friedensreich Hundertwasser, an Austrian artist whose original architectural style recalls Gaudi.
Hundertwasserhaus is a residential complex with an original architectural style very different to that of traditional Vienna.
Constructed between 1983 and 1986, the work of Austrian artist Friedensreich Hundertwasser resembles a colourful puzzle or a child's drawing - the floors are wonky, if not wavy, and inside its rooms trees grow with roots and branches extending from the windows.
The bright colours and uneven shapes of the its façade have proven to be popular with tourists, and the Hundertwasserhaus has become one of the most visited buildings in Vienna.
Unmissable
Hundertwasserhaus is one of Vienna's main attractions and has become part of Austria's cultural heritage. The shapes and colours of the fantasy-like building prove that it is possible to change the status quo.
Alongside the Hundertwasserhaus, you can also visit Hundertwasser Village, a shopping centre built in the same style, and the Hundertwasser Museum, where the artist's other works are exhibited.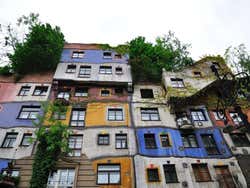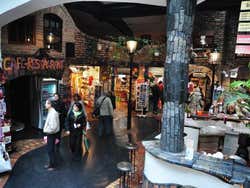 Transport
Tram: Hetzgasse, line 1.