During the great plague epidemic of 1713, Emperor Charles VI had promised to build a church when Vienna was free from the illness. Karlskirche was built in dedication to Saint Charles Borromeo, a revered healer of plague sufferers.
The construction of Karlskirche in Vienna was a slow process, and it was finally opened after 25 years, in 1737.
Outside Karlskirche
The exterior of the church is a beautiful example of Baroque architecture, and it has not only a large dome but two tall columns flanking the entrance, which are decorated with spiralling images of scenes from the life of Saint Charles Borromeo.
Inside Karlskirche
On entering the church, let your gaze rise to the ceiling to admire the opulent frescoes in the cupola painted by Johannes Michael Rottmayr. The immense paintings show the glory of Karlskirche's patron saint in incredible splendor and beautiful colours.
One of Vienna's most important churches
Karlskirche is one of the city's most interesting churches, both inside and out. As well as visiting the church, you can also head up to the top of the dome to take a look at it up close.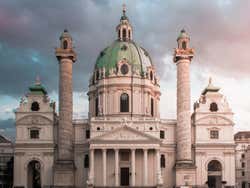 Schedule
Monday to Saturday: from 9 am to 6 pm.
Sunday and holidays: 12 pm to 7 pm.
Price
Adults: € 8 (US$ 8.60).
Students and young people: € 4 (US$ 4.30)
Children under 10 years old: free entry.
Transport
Metro: Karlsplatz, lines U1 and U2.
Tram: Gusshausstrasse, line D; Wien Resselgasse, lines 1 and 62.
Bus: Schwarzenbergplatz, line 4A.