Constructed in the 17th century, the immense Schonbrunn Palace in Vienna was the summer residence of the Austrian imperial family for several hundred years. Its stunning Baroque architecture, lavish interiors and beautiful gardens are well worth a visit.
Built in the 17th century, Schloss Schonbrunn, to this day one of Europe's most beautiful Baroque palaces, was for many years the imperial summer residence.
Inside the palace
As you explore the magnificent palace interior, your audioguide (included in the ticket price) will keep you informed and entertained with fascinating details about the different events that took place during the palace's imperial heyday. Famous visitors include Mozart and Napoleon!
Wander around its lavish rooms - of which there are a grand total of 1,441 - and admire the sumptuous Rococo-style decor. Don't miss the splendor of the Great Gallery, where imperial banquets were held, the exotic flair of the Chinese Cabinets - the locations of Maria Theresia's secret meetings with her Chancellor, and Charles I's abdication in 1918 - as well as the surprisingly modest private suites of Emperor Franz Joseph and Empress Isabel.
After visiting the palace
As well as the beautiful palace itself, the immense Schloss Schonbrunn complex features stunning gardens filled with sculptures, the fascinating Imperial Carriage Museum, and the Tiergarten, the oldest zoo in the world.
Stroll through the wonderful gardens to the Gloriette, which offers beautiful views of the palace from its hilltop location.
Unmissable
The Schonbrunn Palace, alongside the Hofburg, are must-see monuments on your trip to Vienna. With many different ticket options offered by the Palace including visits to the interior, exterior, and museums of Schloss Schonbrunn, you can tailor your experience to suit your interests. If you're short on time, why not combine your visit to the Palace with a tour of Vienna city center?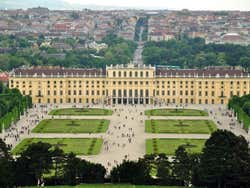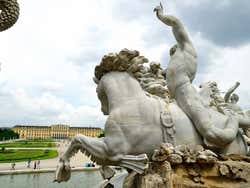 Schedule
Schonbrunn Palace is open daily, including public holidays:
Daily from 8:30 am to 5:30 pm
In summer (July and August), it stays open an hour later, and in winter (November - March), it closes half an hour earlier.
Schonbrunn Palace park is open to visitors all year round, however, specific park attractions (Maze, Gloriette, Privy Garden, Orangery) are usually open from mid-April to the beginning of November.
Price
Palace interior
Grand Tour: Adults € 26 (US$ 27.80), children (aged 6-18) € 19 (US$ 20.30)
Imperial Tour: Adults € 22 (US$ 23.50), children (aged 6-18) € 15 (US$ 16.10)
Labyrinth: Adults € 4.50 (US$ 4.80), children (aged 6-18) € 3.50 (US$ 3.70)
Gloriette: Adults € 4.50 (US$ 4.80), children (aged 6-18) € 3.20 (US$ 3.40)
Vienna Pass includes free entry to the Schonbrunn Palace and Gardens.
Schönbrunn Palace Tour € 48 (US$ 51.40)
Transport
Metro: Schönbrunn, line U4 (green).
Tram: Schönbrunn, lines 10 and 58.
Bus: Schönbrunn, line 10A.