Vienna Military History Museum
Vienna's Military History Museum is home to a number of exhibitions showcasing the achievements of the Austrian military since the 16th century, from the Turkish sieges of 1683 to the Napoleonic Wars.
Vienna's Museum of Military History is located in the imposing former military complex named the Arsenal. The fortress-like building first opened in 1856, making it the oldest museum in the Austrian capital.
Inside the museum
As a memorial to the Imperial Army, the Feldherrenhalle, or Hall of Generals, is home to 56 full-size marble statues of army commandants from various periods in Austrian history, from the 10th century Leopold I, Margrave of Austria to 19th century Habsburgs.
Throughout the museum, the exhibitions are organised in chronological order. The first floor is dedicated to the Turkish siege, the wars of the 13th century, and Napoleon's victory over Austria, while the ground floor focuses on the 19th and 20th centuries.
Interesting displays include the Marine Hall, a dedication to Austria's history as a naval power from the days when it had access to the sea, and the artillery halls, which house over 550 different guns and barrels, many of which date back to the Imperial armoury.
Memorial to Franz Ferdinand
One of the museum's most important rooms is dedicated to Archduke Franz Ferdinand. The exhibition contains various personal objects belonging to the Archduke, but its stand out display is undoubtedly the car in which he and his wife were assassinated in Sarajevo in 1914, an event that triggered the start of the Second World War.
History buffs
The Museum of Military History is home to many interesting exhibitions, and fans of military history in particular will be delighted with its fascinating displays. If you visit the museum, we recommend combining it with a trip to the nearby Belvedere Palace, while you're in this area of the city.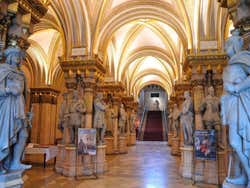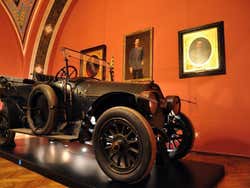 Schedule
Every day from 9 am until 5 pm.
Closed: 1st January, Easter Sunday, 1st May, 25th December, 31st January.
Price
Adults: € 6 (US$ 6.40)
Students and seniors: € 4 (US$ 4.30)
Children under 19: free
First Sunday of each month: free.
Vienna Pass holders: free