The Vienna Card is a tourist pass that offers discounts on the city's main museums, monuments and tourist attractions, as well as giving free unlimited travel on the metro, tram and bus networks for 24, 48 or 72 hours. Vienna Card holders are also entitled to offers at certain bars and restaurants.
What does it include?
The Vienna Card's biggest benefit is that it includes unlimited public transport use for a period of 24, 48 or 72 hours, depending on the option you buy.
There is also the option to purchase the city card with Big Bus Vienna access too. This tourist pass includes a ticket for the city's hop on hop off tourist sightseeing bus, as well as both a guided daytime and nighttime walk.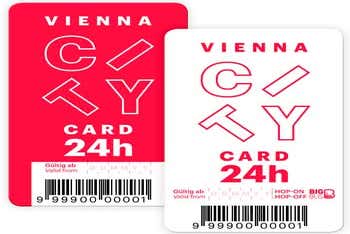 Vienna Card
As well as travel, the pass also offers discounts on entrance tickets at the Schonbrunn Palace, the Austrian National Library, the the Sisi Museum and Imperial Apartments, the Albertina Museum and the Art History Museum amongst other places.
Price
The standard Vienna City Card costs € 17 (US$ 16.70) for 24 hours, € 25 (US$ 24.60) for 48 hours and € 29 (US$ 28.50) for 72 hours.
The Vienna City Card with Big Bus Ticket costs € 32 (US$ 31.40), € 37 (US$ 36.40)and € 41 (US$ 40.30)respectively.
One child up to the age of 15 years old can use public transport for free with each Vienna City Card holder.
Is it worth it?
If you look at Vienna's public transport ticket prices and bear in mind that a 72 hour unlimited travel pass is € 17.10 (US$ 16.80) there's only a little over € 10 (US$ 9.80) difference to enjoy all the benefits the tourist pass offers. 
Unlike other tourist passes, the Vienna Card does not include free entry to attractions, so it only works out economical if you plan to make the most of the city's public transport network and to visit the monuments included on the card.
If you're a student with a valid ID, you may be able to find better offers using your student discount instead.
Where to buy it?
You can purchase the Vienna Card online or via the Vienna City Card app, in the Tourist Information Centres at the airport and train stations, or in Albertinaplatz and hotels. The best option is either to buy online, or to pick it up in the airport or train station on arrival, so that you can take advantage of the travelcard on your journey into the city centre. Alternatively, if you purchase the pass via the app, this will serve as your City Card for access to attractions and to public transport.