Imperial Furniture Collection
The Imperial Furniture Depository was founded in 1747 by Empress Maria Theresia to store the Habsburg family's furniture; today it showcases thousands of different pieces.
Over time, the Imperial Furniture Collection has expanded to become one of the most important and extensive collections of furniture in the world.
Get to know the Imperial Furniture Museum
While the furniture depository itself was created in 1747, the first exhibition didn't actually open until 1924. Since then, the museum still operates its original function as the storage place of the furnishings of the Imperial Austrian royal family, as well as repairing and restoring them, and displaying them to the public.
Each member of the legendary Habsburg dynasty had their own particular tastes and styles, and each time a new member moved into one of the many royal palaces, they'd bring with them their own furniture, putting the previous pieces into storage. As such, the collection includes over 160,000 pieces spanning more than five centuries, with furniture from the Schonbrunn, the Hofburg, the Belvedere and the Schlosshof. 
Of the collection, around 6000 objects are on display, including imperial thrones, cribs used by princes, commodes disguised as chairs and even spittoons! The museum also features the recreations of several palace bedrooms, and the huge amount of furniture in the 19th century Biedermeier style is particularly fascinating.
Each section of the museum is dedicated to showcasing the furniture of the different family members for whom they were created, allowing visitors to form an idea of life in the Imperial palaces, as well as discovering more about the history of the Habsburg family.
Historic furniture
As well as the incredible number of objects belonging to the Habsburg family and the careful recreations of different palace rooms, the Imperial Furniture Museum also hosts temporary special exhibitions throughout the year. Seeing the ancient furniture and how each royal's taste varied gives fascinating insight into these interesting chapters of Viennese history.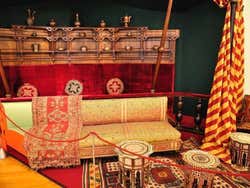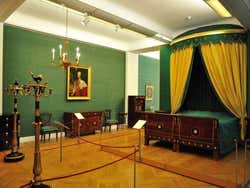 Schedule
Tuesday to Sunday from 10 am to 5 pm (this may vary depending on the time of year)
Price
Adults: € 11.50 (US$ 12.30)
Students, seniors over 60 years old and Vienna Card holders: € 10.50 (US$ 11.20)
Children between 6 and 18 years old: € 7.50 (US$ 8)
Vienna Pass holders: free entry.