With its twin 325-foot (99 m) tall towers and intricate carved stonework, the majestic Votivkirche is a striking example of Neo-Gothic architecture.
The majestic Votivkirche, or Votive Church, is a striking example of Neo-Gothic architecture. Of its most impressive features, the 325-foot-tall twin spires are a particular highlight.
History
In 1853, Emperor Franz Joseph was attacked with a knife in an assassination attempt. Following his survival, his brother started a campaign to build a church on the site of the attack, as a thanks to god for saving his life.
Work began that year, and the church was opening in 1879 on the silver wedding anniversary of the Emperor and his wife, Empress Elisabeth.
Inside the church
As can be seen from its imposing exterior, the interior of the Votive Church is characterised by soaring vaulted ceilings. Light floods in through its enormous arched windows and it has a generally airy and elegant feel. 
Inside, admire the church's eye-catching altar, an elaborately carved piece inspired by Italian Gothic architecture. The Renaissance-style tomb of Nikla Salm, who defended Vienna during the Turkish siege in 1529, is also housed in the church, and the highlight of its museum is the Antwerp Altar which dates back to 1460.
Please note: the Votivkirche is currently undergoing renovations. The museum and church interior may be closed during this time, except for church services.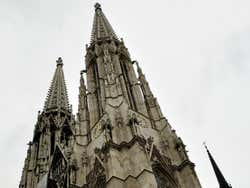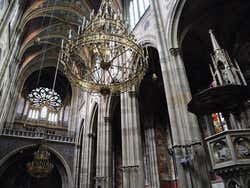 Schedule
Monday to Friday: from 4 pm  to 6 pm.
Saturdays and Sundays: from 9 am to 1 pm.
Price
Church: free entry.
Museum: € 3.90 (US$ 4.20)
Transport
Metro: Schottentor, line U2.
Tram: Schwarzspanierstrasse and Schottentor, lines 37, 38, 40, 41 and 42; Landesgerichtsstrasse, lines 43 and 44.