Discover why Vienna's Staatsoper is one of the most famous opera houses in the world. Learn all about the State Opera and how to visit it.
The Vienna State Opera is one of the world's finest opera companies, famous for its first-class opera and ballet as well as its stunning Rennaissance architecture.
A brief history
The Staatsoper was the first major building to be constructed as part of the Ringstrasse project. Officially opened in 1869 with a premiere by Mozart, it gained popularity over the following decades, thanks to the artistic influence of its first directors. 
Both the opera house and company suffered during the dark years of World War II: many members of the house were driven out by the Nazis, and many works were not allowed to be played; then, in 1945, the building was devastated by bombing. Ten years later, the Staatsoper reopened, restored with a new auditorium and new technologies, a symbol of the new life leased to a country that had just regained independence.
Visiting the Vienna State Opera
Learn all about the tumultuous history of the State Opera as you explore the inside of the building, thanks to guided visits that run throughout the week.
The tours take you from the foyer, which miraculously survived the 1945 bombing, up the magnificent grand staircase to the staterooms. Explore the Tea Salon, where Franz Josef would relax in the intervals, the Marble Hall, and the Gustav Mahler Hall before you reach the auditorium. Here you can admire the stage as you marvel at the sheer size of the 2,800-seater opera hall.
Opera for all budgets
Opera tickets are notoriously expensive but don't write off seeing one of the legendary performances at the Vienna State Opera. While a seat in the stalls can cost a staggering € 150 (US$ 160.70), if you don't mind queuing for a couple of hours before a show, you can buy 'standing room only' tickets to watch the opera for a very accessible € 4 (US$ 4.30)!
What's more, on selected dates throughout April, May, June, and September, a series of opera and ballet performances are screened live outside the opera house, allowing visitors to enjoy classical entertainment in a relaxed atmosphere for free!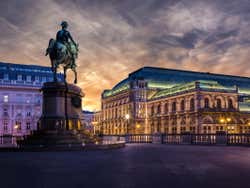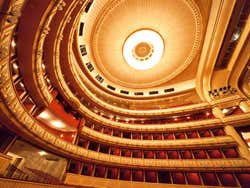 Schedule
Guided tours of the State Opera are run from Monday to Sunday at varying times throughout the day, usually between 10 am and 3 pm. They last around 40 minutes.
 
Price
Guided tour + Museum (Tuesday - Sunday)
Adults: € 13 (US$ 13.90)
Seniors: € 9 (US$ 9.60)
Students 6-27 years old: € 7 (US$ 7.50)
Children under 6: free entry
Transport
Metro: Karlsplatz, lines U1 (red), U2 (purple) and U4 (green).
Tram: Wien Oper, lines 1, 2, 62 and D.
Bus: Wien Oper, lines 3A, 59A, 360 and L.